6/20/2012
New Jersey Halts Red Light Cameras Over Yellow Timing
Three-quarters of New Jersey red light cameras in violation of state signal timing law.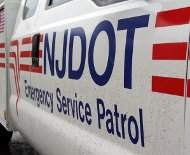 The New Jersey Department of Transportation (NJDOT) yesterday ordered a halt to red light camera ticketing in 21 cities. The agency became concerned drivers are being shortchanged and the law violated after learning that 63 of 85 photo ticketing intersections failed to meet legal requirements for yellow signal timing. The agency prohibited ticketing at these locations pending certification of each individual intersection's timing.

"It has come to the attention of the department that the pilot program legislation specifies a formula to determine the proper duration of the yellow light in a traffic signal that differs from the legally required, nationally accepted formula that NJDOT or municipalities use when installing traffic signals," NJDOT explained in a statement yesterday.

NJDOT said any camera operating with an overly short yellow will be removed from the camera program. In 2008, lawmakers skeptical of the motives behind photo ticketing inserted a provision into the camera program authorization that put in place one of the most stringent yellow timing provisions in the country. Their goal was to reduce the likelihood that municipalities and private vendors would exploit timing deficiencies to generate ticketing revenue. The National Motorists Association, which helped push for the signal timing law, believes the claims of photo enforcement proponents have been undermined by municipalities in New Jersey.

"Even with the law, the program was not implemented properly," NMA's New Jersey chapter coordinator Steve Carrellas said. "It goes to show that camera enforcement should never be allowed since it's almost never fair to motorists."

According to NJDOT, only 22 out of 85 intersections were certified with an appropriate yellow signal timing. The law specifies a typical 35 MPH intersection must have at least 3.5 seconds of yellow time, and a 45 MPH intersection would be 4.5 seconds, and so on. Most cities achieve shortened yellow times by posting speed limits far below the actual travel speed of traffic. The law prevents this with a provision specifying that the yellow time can only be set according to the speed at which 85 percent of traffic moves. The net result is that the law mandates significantly longer yellows.

"This requirement aims to ensure that the traffic signal is timed properly to provide motorists with sufficient time to avoid a violation and fine by entering an intersection when the light is red," NJDOT explained.

The Texas Transportation Institute concluded in 2004 that yellows shorter by a second than the ITE recommended amount generated a 110 percent jump in citations (view report). The vast majority of those extra violations happened within the first 0.25 seconds after the light turned red (see chart).

Ohio and Georgia have similarly tough statues, requiring one second be added to the yellow time of any intersection that has a red light camera. In Georgia, implementation of the law produced an immediate 80 percent reduction in violations, so much that the state's primary photo ticketing vendor, Lasercraft, was forced to sell its business.

New Jersey's automated ticketing ban applies to Newark, Linden, Wayne, Palisades Park, Union Township, Springfield (Union County), Roselle Park, Rahway, Englewood Cliffs, Pohatcong, Piscataway, Edison, East Windsor, Lawrence, Cherry Hill, Stratford, Monroe, Brick and Glassboro.


Article Excerpt:

New Jersey Code Section 39:4-8.14:

A municipality desiring to participate in the program shall submit an application to the Commissioner of Transportation. The application shall include... a certification by the municipal engineer that (a) the intersection or intersections in question have a minimum duration of the amber light at the traffic control signal of three seconds if at least 85 percent of the vehicular traffic approaching the signal is traveling at a speed of 25 miles per hour or less; and (b) for each five mile increase in the speed of vehicular traffic referred to in subparagraph (a) of this paragraph above 30 miles per hour this minimum duration of the amber light shall be increased by one-half second.