6/18/2012
Riverside, California Considers Dumping Red Light Cameras
California Department of Transportation opposes use of red light cameras in Riverside, California.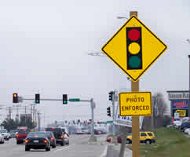 California jurisdictions are continuing the trend of giving up on the use of red light cameras. Later today Riverside's public safety committee will decide whether it should recommend the city council put an end to automated ticketing. City staff are fed up with the program, and so is the state department of transportation (Caltrans).

The Australian firm Redflex Traffic Systems has been running the cameras since 2006, with twenty-one intersections currently under surveillance. Five cameras at three of those intersections are located on state right-of-way, and the Caltrans permit for use of cameras there has expired.

"As part of the renewal process, Caltrans reviews collision data from the photo enforced intersections under their control to determine the need for the cameras," City Engineer Thomas J Boyd wrote in a memo to committee members. "Upon review Caltrans has determined that the accident rates do not warrant the camera systems at any of the five Caltrans controlled locations and has requested their removal."

Those three intersections happen to be the most profitable in the city. Last year, Redflex issued 14,499 red light camera tickets worth $7.1 million from just those locations, compared to 12,932 at the other eighteen. Caltrans is adamant in its opposition.

"Ultimately, Caltrans District 8 has decided to no longer allow cameras in their right-of-way and has instructed the cities of Victorville and Riverside to remove the cameras from Caltrans right-of-way," Boyd wrote. "Caltrans has requested that the City apply for an encroachment permit immediately to remove the cameras from their right-of-way."

In 2011, Riverside granted Redflex a five-year contract extension that included a clause allowing the city to terminate the program without penalty upon sixty-days notice. Staff recommend exercising this option today because the alternative would mean the city would no longer make any profit from photo ticketing.

"The first amendment to the agreement with Redflex Traffic Systems allows the city to relocate up to eight cameras at no cost to the city, however there are few alternative intersections with violation and collision rates that would justify photo enforcement and none with similar violation rates to the six cameras identified above," Boyd wrote. "Once these cameras are removed, the red light program will need a significant subsidy from the general fund in order to continue operating."

Recent cities to drop their programs include Emeryville, Yuba City, Glendale, Gardena, Grand Terrace, Loma Linda and Whittier, Los Angeles, Moreno Valley, Pasadena, Rocklin, San Carlos, Union City, Yucaipa and Costa Mesa. Berkeley, Burlingame, Cupertino, Compton, El Monte, Fairfield, Fresno, Fullerton, Indian Wells, Irvine, Maywood, Montclair, Paramount, Rancho Cucamonga, Redlands, Roseville, San Jose (photo radar), Santa Fe Springs, Santa Maria, Santa Rosa, and Upland have also canceled their contracts.