4/2/2012
Another California City Unsatisfied With Red Light Cameras
Red light camera program likely to end in San Juan Capistrano, California.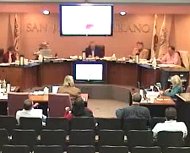 The days are likely numbered for the red light camera used to mail near $500 citations to tourists headed to the famous Mission San Juan Capistrano. The city of San Juan Capistrano is the latest California town to grow dissatisfied with automated ticketing and the council has been wrestling with the question of letting the program end when the contract with Arizona-based camera vendor American Traffic Solutions expires.

On March 20, council members discussed the lack of revenue generated by the devices posted at the intersection of Ortega Highway and Camino Capistrano and Del Obispo Street and Camino Capistrano. The city signed its first contract to run cameras in 1999, but the amount of revenue the devices has generated has dwindled, dragging down the latest city budget projections by $280,000.

"Most of our revenues that had been quite high were related to the photo enforced red light tickets," said City Treasurer Cindy Russell.

City Attorney Omar Sandoval explained that the drop is due to motorists hiring attorneys to challenge the pricey photo tickets. A police officer normally handles the violation if a motorist challenges a ticket without a lawyer, but the local court requires the city attorney to prosecute every case that comes to a formal trial, and the city attorney's office has no interest in doing so.

"Right now the officer is treating this as any other traffic citation, but once an attorney shows up and asks for a trial, then an officer cannot get himself on the stand and examine himself so you actually need a prosecuting attorney, and the cost of having our office in that process is not worthwhile," Sandoval explained. "So a lot of the cases are dismissed... People are figuring out if you hire an attorney, you're going to have your case dismissed."

Sandoval hinted that he was less interested in prosecuting camera cases because the council was not going to renew the contract in September, although no such decision has been formally made. On January 10, 2011 the council discussed holding an advisory vote to let the voters decide whether to keep the cameras. The council decided to put off the issue until it considered the devices' safety record and the financial implications of early terminations. Others explained such a vote would serve little purpose since 73 percent of the public opposed cameras in the November 2010 elections in the nearby city of Anaheim.

"I don't think it needs an advisory vote, because I think I know how it would come out," Councilman Sam Allevato said at the time.

Despite requesting information on the safety record of cameras, more than a year passed without any being produced. Meeting minutes for the council's transportation commission show collision information was requested on a nearly monthly basis without result. A city councilman asked once again for the information in last month's meeting.