1/19/2012
Missouri Town Cheats Camera Company Out of $50,000
Arnold, Missouri fails to tell red light camera vendor about dismissed violations.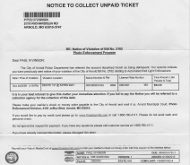 Earlier this month, photo enforcement vendor American Traffic Solutions (ATS) began sending out thousands of collection notices to vehicle owners who had at some point been accused by a red light camera in Arnold, Missouri. At least 1200 of those who received these notices in the mail had already paid or otherwise reconciled their fine. Arnold officials insisted yesterday that this was a harmless mistake.

"The city of Arnold Police Department has referred the account described herein as being delinquent," read one of the notices. "It is in your best interest to give this matter your immediate attention. If you fail to pay the notice you will be referred to a collection agency for the collection of this debt."

This particular letter demanded payment of $94.50 to close out an alleged red light camera violation that took place on Christmas Eve 2009. The vehicle owner knows that this debt was fully resolved because he fought his case in court and won a default judgment. The city admitted these notices should never have been sent out.

"Recently, a letter was sent from ATS, on behalf of the city of Arnold, in an effort to collect on tickets that were issued from 2005 to present and that remained unpaid," a city press release noted. "Unfortunately, a computer error caused a small percentage of those letters to be sent to persons who had already satisfied their cases."

Those affected will receive a letter of apology instructing them to disregard the bill they received, but at least one member of the city council remains upset at the city's conduct in the matter.

"This press release is nothing short of a lie," Councilman Doris Borgelt wrote to her colleagues. "It was not a computer error that caused this mess, it was a data entry error on the part of the city of Arnold. I do not consider 1200 out of 8000 or 15 percent a small percentage of people affected. Please correct this with the press."

Questions are now being raised over whether the data entry error was intentional. Under the contract between ATS and Arnold, the Arizona-based vendor receives $31.33 for every $24.50 collected in court costs on dismissed cases. By failing to enter these, the city saves money. Insiders suggest the city now owes ATS $50,000.

"We all know, there is certainly no honor among thieves, but it is both public safety and the public treasury that suffer ultimately as a result of the actions of both the city and American Traffic Solutions," former Arnold councilman Matthew Hay told TheNewspaper. "ATS may have entered into an agreement with the one municipality in the country more adept at obfuscation and manipulation than they are."