1/17/2012
Texas: Top State Senator Says Red Light Cameras About Money
Top supporter of red light cameras in the Texas Senate now says photo enforcement is a bad deal.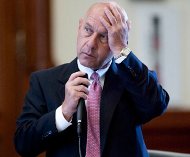 The most senior Texas state lawmaker admitted last week that he voted to save red light camera programs even though he knew they had no effect on public safety. State Senator John Whitmire (D-Houston), who was first elected to the legislature in 1973, appeared on KTRH radio's morning news program to discuss how public opposition to red light cameras persuaded legislators to devote some of the camera profit to trauma centers.

"People went to Austin protesting it, and so John Carona -- a senator from Dallas -- didn't want to eliminate them," Whitmire explained. "He said, you know, it's obviously a revenue source. Local communities try to sell it as public safety, cutting down on red light running. He and I and I think most people would realize it's really a revenue source. John Carona in Austin said, I'm not going to eliminate but let the state have half of that revenue dedicated to trauma care which is badly underfunded."

Though the money was promised to trauma care centers, over $40 million of this money has remained in the state's general fund and not been distributed to the trauma centers.

"The budget writers in an effort to find resources and money to balance the budget never sent that," Whitmire explained. "It's wrong. It's wrong."

Whitmire played an essential role in 2005 in blocking House legislation that would have banned red light cameras as well as an amendment that would have forced municipalities to obtain voter approval before instituting a red light camera program. The Senate voted 18 to 13 to against the referendum requirement. Whitmire explained that the mayor of Houston, a fellow Democrat, had pressed him for that vote.

"Bill White came to Austin and he had two issues," Whitmire said. "The next vote that came up was to try to repeal red light cameras. The vote was whether we'd take that away from the cities. And I don't think Austin ought to be trying to run the cities on a day-to-day basis."

Houston's cameras were ultimately shut down, but only after a heated legal and political battle. A federal judge even intervened to overturn the results of a public vote on the matter.

"It is a bad deal and the people acted on it and repealed it," Whitmire said. "The issue of red light cameras, I was always suspect about it. I never thought it was about public safety. The greatest number of red light citations are issued to people who don't come to a complete stop on turning right or similar violations. It's a civil ticket, that shows you how insincere they are about it."