11/22/2011
Maryland: Innocence Not a Defense to Speed Camera Citations
Judges in Prince Georges County, Maryland are cracking down on motorists who argue speed camera tickets are inaccurate.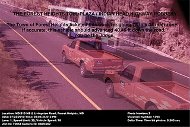 Prince George's County, Maryland judges are tired of complaints that photo enforcement citations are inaccurate or otherwise invalid. To speed proceedings on "speed camera day" when automated citation cases are heard, at least one judge is cautioning motorists not to bother attempting to prove their innocence, regardless of the merit of their argument.

"This is a speed camera violation session," District Judge Jean S. Baron said on November 9. "The only defense the court is going to accept is if you were not the driver of the vehicle and you have the name and the address of the person who was driving and you present that to the court under oath, I will accept that as a defense. Please don't tell me that you know you couldn't have been going that fast or there's something wrong with the equipment."

Will Foreman, owner of Eastover Auto Supply, has infuriated local prosecutors by offering a mathematical proof that his delivery vehicles were incorrectly accused of speeding. He used the photographs taken by the speed camera vendor Optotraffic to create a time-distance calculation showing his vehicles could not possibly have traveled at the velocity alleged. To counter this, Optotraffic press spokesman Mickey E. Shepherd, who is not a scientist, would present evidence at trial that the camera equipment verifies its own accuracy.

"There's someone here from the jurisdiction who testifies that the equipment was calibrated and validated -- or it is self-calibrating -- then I'm not going to be able to accept that as a defense," Judge Baron said. "Keep that in mind. Now if you want to accept responsibility and enter a guilty plea, I will take that into consideration and in all probability I will give you a probation before judgment and greatly reduce the fine. Now that's up to you" (listen to the judge's full statement).

Foreman's concern about camera accuracy is echoed in correspondence between the town of Cheverly and Optotraffic. Cheverly this month stopped letting Optotraffic issue photo tickets and switched to Brekford, an upstart rival to the established players American Traffic Solutions (ATS) and Redflex Traffic Systems of Australia.

"Not only are the cameras still not functioning properly, they now are producing violations for invisible vehicles going 76 miles per hour and bicycles going 38 and 57 miles per hour and now violations with just a part of a vehicle in only one photo," Town Administrator David Warrington wrote in a July 26 letter to Optotraffic. "Finally, we continue to get false speed readings for vehicles that have an irregular size such as buses and trucks with ladder racks. Rather than have meeting to have Mickey tell us 'that it's technical' we would like you to have an explanation for the equipment problems provided to us in writing. I look forward to hearing from you in the next ten days."

On September 23, Judge Gerard F. Devlin prohibited Foreman from introducing the letter as evidence. Judge Devlin then took matters a step further by jailing James Bradford, 71, for contempt for saying "I was not speeding" after Devlin told him to stop repeating an argument he rejected (listen to the exchange in court).