10/31/2011
Austin, Texas Explores Photo Parking Snitch Tickets
City council in Austin, Texas considers allowing residents to issue handicap space parking tickets to other drivers with an iPhone app.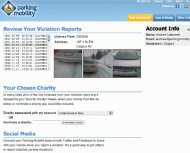 Residents of Austin, Texas may soon have the power to issue parking tickets by taking a few photographs of someone else's car with their smartphones. A unanimous council voted on October 20 to explore the concept of deputizing vigilante meter maids using an iPhone app. Disabled advocates pushed the program at the council meeting in the hopes of guaranteeing easier parking. They were joined by others who were just interested in writing the $511 tickets.

"I am a community policer from way back," one resident said at the meeting. "I'm also one of the first code compliance volunteers in my neighborhood... Low income people like me can't even afford a cell phone, so I think if you're going to allow this you should also expand this ordinance to include the ability of the police department and code compliance to purchase smartphones for their volunteers."

Councilman Kathie Tovo noted a number of volunteers had already emailed looking to join the program. Under Texas Transportation Code Section 681.0101, cities may deputize volunteer meter maids who swear an oath after taking a four-hour class before they can start ticketing.

"I can't help but think that there's some solution that does involve the use of smartphone technology putting those powers in the hands of citizens and enabling them to help the city extend its reach to do a better job of enforcing handicapped parking restrictions," Councilman Chris Riley said.

The non-profit group Parking Mobility, created by George Soros-funded organizations, created the Android, Blackberry and iPhone parking ticket app which encourages cities to adopt the program because they can "generate revenue." The system requires a person take three photographs of the alleged violator -- one of the license plate, one of the windshield and one showing the car and the handicapped parking sign. The software sends the photos and the GPS location to the city so it can issue the expensive ticket.

"There's really no better enforcement tool than our citizens policing themselves," Councilman Mike Martinez said. "I think the merits of this program deserve our support."

The council ordered the city manager to create a report on the feasibility of the program within ninety days.