1/25/2011
Alberta, Canada Cancels 141,729 Photo Tickets
Edmonton, Canada speed on green tickets canceled after devices produce bogus speed readings.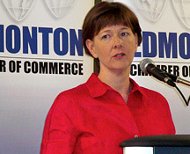 Unable to verify the accuracy of certain speed camera readings, the government of Alberta, Canada announced Monday that it would issue full refunds to motorists. Doubt surrounds speeding citations issued from any of the forty-seven red light camera intersections in the city of Edmonton under a program known as "speed on green." The refunds cover automated tickets mailed between November 2009 and January 14, 2011.

"This is the right action to take," Minister of Justice and Attorney General Alison Redford said in a statement. "Our first concern is the fair administration of justice, and we cannot proceed with legal action when there is doubt about the accuracy of the city's speed on green ticket technology."

Edmonton Police Service officials have not disclosed the precise cause of inaccurate speed readings, but they admitted the automated ticketing machines generated at least twenty-six bogus readings. The problem was discovered when prosecutors examined a ticket claiming a vehicle was traveling at 143km/h (89 MPH) on Yellowhead Trail -- along with every other vehicle on the road.

Although 141,729 tickets worth about $17 million were generated, only 102,700 worth $12.3 million have been paid. The profit is split between the city, the for-profit vendor, and the province which takes about 17 percent.

Despite the significant pricetag of paying back the fines, the Edmonton incident is far from the largest photo ticketing refund on record. In July 2003, a speed camera in Victoria, Australia accused motorist Vanessa Bridges' 1975 Datsun 120Y of driving at 98 MPH, setting off a chain reaction of events that ultimately cost the state government A$26 million in refunds. Even after the thirty-year-old Datsun was tested and found to be capable of reaching speeds no greater than 73 MPH, police dug in their heels and insisted the photo enforcement system was accurate and that Bridges' fine would stand. Intense publicity arising out of her case, however, forced an investigation into the cameras on the Western Ring Road. Independent testing showed faulty in-ground sensors and electromagnetic interference had been responsible for generating bogus speed readings. The government had no choice but to cancel 165,000 camera tickets.

Last year, police in Victoria, Australia admitted accuracy problems had surfaced again on the Hume Highway as the clocks used by average-speed cameras became unsynchronized. So far, officials have refused to provide refunds while a formal review is conducted. A report on the incident is expected within a week.