6/16/2010
Texas: City Fudges Red Light Violation Numbers Before Election
Red light camera ticket numbers manipulated in Baytown, Texas to create appearance of a safety benefit.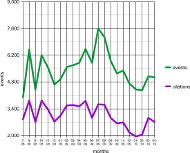 Baytown, Texas is easing up on issuing red light camera tickets in the hopes of diverting momentum away from a planned effort to place a photo enforcement ban on the ballot. Resident Byron Schirmbeck and a team of volunteers expect soon to turn in a second petition forcing a referendum. Statistics show that, in response, city officials and American Traffic Solutions have deliberately issued fewer citations. The program rejected 29 percent of violations in July 2008, but documents show the rate of rejections climbed to 54 percent in December.

"Why would they do that?" Schirmbeck asked. "The answer it that the citations weren't dropping as predicted and the camera company saw a real public relations problem: How can they claim that the cameras are working if citations are still so high? Simple, they can't. The solution they came up with is to start sending Baytown PD fewer violations for them to review. This way they can say that fewer citations mean fewer red light runners and they can attempt to save their multi-million dollar program when election time comes around."

Schirmbeck spoke before the city council last week and challenged assertions by city officials that the red light cameras had contributed to a decline in the number of traffic collisions in the city. The decrease in citywide accidents mirrors statewide and national trends. City statistics also showed that the overall number of red light violation events measured by the camera has not changed substantially. In December 2008, for example, there were 4655 events that triggered the camera. In December 2009, there were 4723 events -- a non-significant increase of 1.4 percent. Thanks to the boosted rejection rate, this dropped the number of tickets issued from 2724 to 2155 -- a 20 percent decrease.

Earlier this year, Schirmbeck forced city officials to admit they had an illegally short yellow time at the most lucrative intersection. Documents show a significant reduction in events that triggered the camera after the signal timing increased from 3.1 to 4.5 seconds.

"The data clearly shows this benefit," Schirmbeck said. "When the yellow change interval at Garth and Baker was lowered you can see a sharp rise in red light violations. Due to our efforts the signal timing was brought to the bare minimum, violations dropped in half. Imagine what could be done if the signal timing was raised another half second above the minimum."

Schirmbeck believes that his fellow residents would be better served by engineering solutions than the cameras he hopes to ban with a vote in November. Photo enforcement has never survived at the ballot box.