5/12/2010
New Mexico: City Expands Traffic Cameras Despite Accident Increase
Las Cruces, New Mexico expands photo enforcement program despite evidence the devices increased accidents.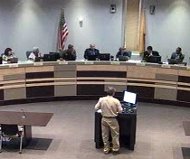 The Las Cruces, New Mexico city council voted Monday to partially obey a New Mexico Department of Transportation (NMDOT) to remove red light cameras and speed cameras from the state right-of-way by May 18. State officials are concerned with the negative impact that the devices have on safety, but Las Cruces officials emphasized the need to "work around" the state in expanding the red light camera program even though the city has seen an increase in accidents where photo enforcement has been installed.

"I don't think we want to go to court with DOT commissioners over the red light cameras at Solano and Main," City Councilor Dolores Connor said. "I guess we need to abide with their rules and move off of that location."

Currently, Redflex runs the dual speed and red light cameras at four locations. The council agreed to ask Redflex Traffic Systems, the Australian company that owns and operates the cameras, to deactivate the intersection of Main Street and Solano Drive. Although NMDOT ordered cameras down at the lucrative Valley Drive and Avenida de Mesilla intersection, Las Cruces will only take one of them down, claiming that a second device is located within the city's jurisdiction. It will also add mobile speed camera vans to increase the number of citations issued citywide.

The safety results do not appear to provide a basis for expansion. Comparing a year's worth of data before the devices were installed at three intersections to a year after, the number of collisions increased 13 percent from 53 to 60. The largest increase was in property damage accidents while injury collisions did not reduce significantly. The numbers would have looked even worse had the city included results from the intersection of Lohman and Telshor where officials claimed "construction" caused the significant increase in accidents. On the other hand, the city finance department estimated that the cameras would generate $5,012,847 in revenue through fiscal 2011.

Although most of the city council supports photo enforcement, Redflex has lost so many camera contracts this year that it would likely exercise its contract to prevent the city from ending the camera program entirely.

"We are very interested in working with the city," Redflex account director Bob Warner said. "If the city were to take the position that they would not want to continue with the cameras, that would have to be something our executive committee would have to take a look at."