3/12/2010
Florida: Red Light Camera Lobbyist Fails To Register
Primary red light camera industry advocate in Florida fails to register as a lobbyist with the state.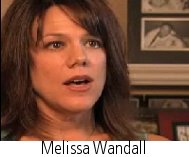 On Tuesday, Melissa Wandall appeared at the Florida state capitol building to throw her support behind legislation that would legitimize the use of red light cameras in the state. Wandall heads the Stop Red Light Running Coalition of Florida, a group she formed in March 2006 with registered lobbyist Neil Spirtas to advance the cause of automated ticketing before the state legislature. Wandall's crusade may run afoul of state lobbying regulations.

Wandall became involved in the issue after a tragic red light running accident took the life of her husband Mark in 2003. The photo enforcement industry has specifically sought out victims like Wandall through a program known as the "Survivors Advocate Network" which is designed to replace difficult questions about the efficacy of automated enforcement with appeals to emotion. Wandall's pleas before the legislature helped last session to bring an industry-sponsored red light camera bill to the brink of passage. The measure, reintroduced in the current session, cleared several committee hurdles this week.

Wandall's Coalition website lists insurance companies and photo enforcement firms as "supporters" ( view list, 350k PDF). She has also confirmed receiving financial support from Manatee and Sarasota counties -- both of which stand to profit significantly from passage of this legislation. Despite receiving compensation for her lobbying activities, Wandall has not registered with the state as a lobbyist. County governments may not provide such payments to non-registered lobbyists.

"No person shall provide compensation for lobbying to any individual or business entity that is not a lobbying firm," Florida Statutes section 11.045 states. "'Lobbying' means influencing or attempting to influence legislative action or nonaction through oral or written communication or an attempt to obtain the goodwill of a member or employee of the legislature."

The Stop Red Light Running Coalition of Florida appears to match key criteria for a lobbying firm under state law.

"'Lobbying firm' means any business entity, including an individual contract lobbyist, that receives or becomes entitled to receive any compensation for the purpose of lobbying, where any partner, owner, officer, or employee of the business entity is a lobbyist," Florida Statutes section 11.045 states.

Neil Spirtas, vice president of the coalition, is a registered lobbyist. The primary purpose of the coalition is to influence lawmakers through direct testimony before legislative committees.

Lobbying disclosure laws are designed to allow the public to know when business entities deploy their financial resources to effect a change in the law. A total of 1789 individuals have registered to lobby Florida's legislature. Those that fail to file a disclosure report face a fine of up to $5000. Any citizen may file a request to investigate a potential violation.