12/4/2009
Tennessee: Early Results Poor For Clarksville Traffic Cameras
After six months of use, red light cameras have failed to produce any safety benefits in Clarksville, Tennessee.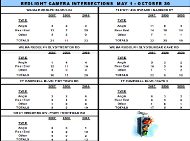 After their first six months of use, the red light cameras in Clarksville, Tennessee have failed to produce any reduction in the number of accidents. The city's first three cameras were installed May 1, and a comparison of accidents at these locations from May to the end of October compared to the same period in 2007 and 2008 shows that the total number of collisions jumped 22 percent following the installation of cameras.

Without waiting to measure results at these locations, Clarksville quickly expanded its program to cover a total of seven intersections. From the period of May 1 to October 30, accidents increased nine percent compared to the average number of collisions over the same period in 2007 and 2008. Compared to the previous year, collisions increased 48 percent.

While six months of "after" data is insufficient to draw a statistically reliable conclusion, the data are consistent with the conclusions of a number of independent, controlled studies that found the number of accidents and injuries increased when red light cameras were installed (view studies). Despite the evidence, state lawmakers at a hearing on Wednesday were nearly unanimous in declaring red light cameras had made the state's road less dangerous.

"There is some safety value," state Representative Joe McCord (R-Maryville) said. "There is some merit in the safety, you can't argue [against] that."

McCord co-authored legislation earlier this year giving the Tennessee Department of Transportation the go ahead to proceed with its plan to set up speed cameras on interstate highways, generating significant revenue for the state. At the local level, Clarksville leaders anticipate pocketing $768,000 in net profit for fiscal year 2010 after Redflex Traffic Systems of Melbourne, Australia takes its share of the revenue.

View the accident data provided by the Clarksville Police Department to the Clarksville Online news site.