11/1/2009
Corporate America Grows More Involved in Photo Enforcement
IBM, Kodak, Goldman Sachs and Xerox play an increased role in photo ticketing.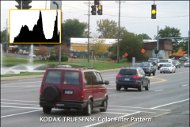 Some of America's most recognized corporations are growing increasingly involved in providing equipment and services to the automated ticketing industry. In many cases, these Fortune 500 firms play a behind-the-scenes role, without actively seeking publicity for their connections to controversial programs.

Imaging giant Kodak did announce that it would be demonstrating a new CCD image sensor at a trade show in Germany on Tuesday. This sensor was specifically designed to work in red light camera and speed camera applications. The company claims the unit doubles light sensitivity, allowing a substantial increase in the number of tickets that can be issued in bad weather conditions.

"Improving camera performance for low-light imaging is a key issue for applied imaging applications such as security and traffic monitoring," Chris McNiffe, general manager of Kodak's Image Sensor Solutions group, said in the company's statement. "Deploying Kodak's new Color Filter Pattern technology... will provide these markets a new level of imaging performance -- availability of color information in low light where it wasn't available before. This integration is another example of Kodak's commitment to develop and deploy our most advanced technologies for these key markets."

IBM has an even greater involvement in speed camera programs, but it rarely comes to the attention of US audiences. The computing giant's Mideast photo ticketing operations include a a $125 million contract to create a GPS-enabled black box, designed eventually to be installed in every automobile in the United Arab Emirates, so that tickets will be instantly issued if the vehicle ever exceeds a pre-set speed. The company is so heavily involved in congestion pricing that it filed a patent on the concept of using a computerized system to tax drivers at a variable rate. The company also runs the high-profile congestion charge programs in London and Sweden.

Investment bank Goldman Sachs last year invested heavily in the number two speed camera company in the US, American Traffic Solutions (ATS). By providing the capital ATS needed to expand operations, Goldman hopes to increase the number of traffic citations -- and license points -- issued to drivers. That will drive a boost in profits for Geico, which is owned by Berkshire Hathaway, which in turn has a $5 billion stake in Goldman Sachs.

Photocopying pioneer Xerox went beyond a simple investment. It purchased the photo and parking ticket giant Affiliated Computer Services (ACS) in September at a cost of $6.4 billion. The deal still requires regulatory and shareholder approval.

Perhaps the strangest corporate connection was the former teaming of America's oldest gunmaker, Remington, with Elsag, an Italian camera firm, to deploy technology designed to allow police to track and log the movements of innocent citizens as they drive on public streets. With Remington's help, the Plate Hunter brand of automated license plate recognition (ALPR, ANPR in the UK) became one of the most widely used systems among local and state governments. In 2007, however, Remington sold its interest in the joint venture to Finmeccanica.