8/26/2009
Public Opposition Drives Down Redflex Profit Margin
Photo enforcement vendor Redflex is losing millions as a result of public opposition to automated ticketing.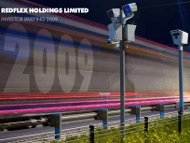 The largest provider of red light camera and speed camera services in the US admitted yesterday that public opposition has begun to affect the bottom line. In an announcement to the Australian Securities Exchange (ASX), Melbourne-based Redflex Traffic Systems reported a nine percent drop in net profit for the year ended June 30, 2009. This has come about in part as motorists increasingly refuse to pay automated fines and use public pressure to force cities to eliminate photo enforcement programs.

"We have been adversely affected by reduced collection rates on some of our US contracts, write-downs on several contracts that have not been renewed, extended start-up difficulties with a major state-wide speed contract in Arizona and costs in dealing with litigation and legislative issues," a Redflex statement explained. "These and other factors have affected profitability for the year."

Reduced collections have cost the company A$2.2 million this year. Motorists in Arizona and Virginia, for example, have become increasingly aware that they may throw away any automated camera ticket received in the mail. Both states require personal service for any citation to be valid. To offset this loss, Redflex added another 394 red light cameras and speed cameras in the US market. This helped increase the amount of money extracted from American motorists by 61 percent to $114,543,000 this year -- despite the net decrease in profit over the previous year.

Of all its contracts, the Arizona photo enforcement contract has proved the most problematic as intense public protest forced lawmakers to limit speed camera deployment. Redflex has lost $2.3 million on this contract to date.

"The program has encountered a number of difficulties," Redflex explained. "Despite initial expectations of installing 40 mobile and 60 fixed units, the installations have been held to 40 mobile and 36 fixed at this stage. We are hopeful of installing the additional 24 systems in the future but do not have a committed timeframe at this stage. Initially, deployments of the mobile units were limited in time and were constrained to less than ideal locations."

Those additional deployments may never happen as the group CameraFraud.com continues to collect signatures for a statewide initiative that would ban all photo ticketing. Arizona is not the only jurisdiction where Redflex faces trouble.

Redflex boasted that it had signed 49 new ticketing contracts, but the list provided to investors was somewhat deceptive. Among the "new contract" cities, Redflex counted Sulphur, Louisiana and Heath, Ohio. In April, a stunning 86 percent of voters ordered the camera program to be shut down. Heath voters will have the same opportunity in November after a group of citizens gathered signatures to force a referendum. So far, the write downs on closed contracts cost the company $1.6 million. Redflex also highlighted its contract renewal with Santa Ana, California even though a Superior Court judge has ruled that the Redflex program is "illegal and void" (view ruling).

The legal troubles do not end with motorists fighting photo ticketing. In fact, Redflex is involved in litigation with other photo enforcement companies. So far this year, that suit has cost Redflex $815,000. A failed attempt to entice investors to buy out Redflex cost another $438,000.

The biggest loss in future earnings potential has come as a number of states shut the door on photo ticketing in 2009. After the legislatures in Maine, Mississippi and Montana acted, Redflex had to pull the plug on a number of planned red light camera and speed camera programs.