6/17/2009
Red Light Camera Program Returns to Virginia
Alexandria, Virginia restarts a red light camera program that created a 42 percent increase in accidents.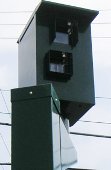 Red light cameras have returned to Northern Virginia. The city of Alexandria announced for the first time yesterday that a private company has re-installed cameras at three intersections with citations going out on July 15. Until now, the city has been quiet about the revived program, hoping to avoid a public discussion of the controversy over accidents that persuaded the legislature to shut down the program in 2005.

According to a report by the Virginia Department of Transportation (VDOT), the total number of accidents increased 43 percent at the Alexandria intersections where red light cameras were used. Across the five main cities in the state using cameras, the report found an overall increase in injury accidents of 18 percent. This time, Alexandria did not consider bringing back cameras for safety purposes.

"The Red Light Camera program is not considered a core public safety service," Alexandria City Manager James K. Hartman wrote in a March 24, 2008 memo to the city council.

Instead, the city has missed the revenue from the 82,000 tickets issued over the lifetime of the program.

"Collections through May were eleven percent lower than collections last year because of the elimination of red light camera revenue," Hartman explained in a June 2006 city budget memo after the program was terminated. "Based on collections-to-date and projected collections, staff projects that fines and forfeitures will approximate $3.8 million, a decrease of $0.1 million below the Approved FY 2006 Budget."

The return of red light cameras is helping to boost ticket collections for Fiscal Year 2010 to $4.6 million, an 11.8 percent increase from the previous year. With three cameras installed, gross photo ticket revenues are expected to be $450,000 per year with private vendor American Traffic Solutions (ATS) pocketing $180,000. Payments to ATS are made through a "cost neutral" contract which compensates ATS on a per-ticket basis up to a level capped at approximately $5000 per intersection per month. The group CameraFraud.com argues that this arrangement directly violates a state law banning per-ticket payments for red light camera programs.

To deflect the appearance that revenue is the program's sole focus, Alexandria places general budget expenses on the red light camera program account to reduce the apparent net profit generated. The city is once again adding "special police officers" (SPOs) to the red light camera payroll to "review" citations at a total cost of $115,000 per year in salary.

"Alexandria uses SPOs rather than sworn police officers to review the Red Light Camera images," a March 2008 city memo explained. "The SPO is a less expensive civilian, uniformed position with limited enforcement powers."

Vendor presentations explain that it takes less than twenty seconds to "review" and give the private company permission to mail a red light camera citation. In 2005, Alexandria generated an average of 1550 such citations each month, at which rate these two SPOs would split a total of nine hours worth of work per month. In reality, such reviews either are not done or are done as "bulk approvals" where entire stacks of citations are electronically signed with a single mouse click. Evidence shows that Alexandria's SPOs in reality served as little more than security guards.

"The SPOs handled all reviews of the citation images while performing their primary security duties at 2003 Mill Road and the police offices at 2034 Eisenhower Avenue," the March memo explained. "Their security functions at 2003 Mill Road had been largely assumed by the Sheriff's Office, which screens all visitors as they enter the parking lot."

Revenue may not meet expectations once motorists who receive citations from the new Alexandria or Virginia Beach red light camera program realize that they may safely discard them without payment. Although the legislature reinstated the red light camera program in 2007, it did not change the requirement that tickets must be personally served to be valid. VDOT explained this issue in 2005.

"Although the statute permits the jurisdiction to make the initial attempt to summon the accused to court via mail, if the person fails to respond, he or she is not considered to have been satisfactorily served with notice," VDOT explained (view report). "The average citizen is probably not aware of this loophole, but if word were widely disseminated, such knowledge could completely undermine the effectiveness of red light camera programs, as citations issued to violators would lose their practical impact."