9/11/2008
Florida: Red Light Camera Company Wants Illegal Contract
Redflex admits red light cameras illegal in Florida, yet lobbies to install the systems for city of Homestead.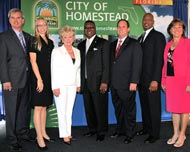 A foreign company admits that red light cameras are illegal in Florida, yet it is making bids to install systems in the state anyway. Australia's Redflex Traffic Systems lobbied local officials in the hopes of securing lucrative contracts to provide photo enforcement services in the Sunshine State, something the company warned investors was "illegal" on August 26.

"Legal opinions indicate that automated enforcement in the state of Florida remains illegal," a Redflex profit statement to the Australian Securities Exchange explained ( view statement, 1.8mb PDF). "Some competitors have proceeded at risk with early programs."

Both the state attorney general (view ruling) and Florida Department of Transportation (view ruling) have made the same determination. Despite the risk, Redflex made a full-court press to convince Homestead, Florida to allow the company to set up automated ticketing machines in response to a request for proposals from the city council. Homestead named Redflex as one of two finalists in the selection process, giving the company a chance to make its case on August 7.

"We're not here to create revenue," a Redflex salesman explained to Homestead officials. "...Although it is a substantial aspect of the program."

On September 2, the city ultimately rejected the Redflex bid in favor of the firm's main competitor, ATS. In a 2004 interview with Australian media giant Fairfax Digital, the former head of US operations for Redflex, Bruce Higgins, explained that the company could not afford to be left out of a state like Florida, one of the eight markets where red light cameras were not in use at the time.

"Two of those eight are Texas and Florida; big states," Higgins said. "Look at what Redflex has achieved in California and consider what is possible in Texas and Florida; we've just seen the first wave... In Australia, speeding violations are three times the number of red-light violations. We expect the US to be similar."

Redflex has hired Dick Batchelor Management Group to lobby the city of Orlando and and the Florida state legislature to install the company's cameras. Redflex also hired Al Maloof to lobby the Miami-Dade County Board of Commissioners.