5/21/2008
Nestor Surrenders its Stock Market Listing
Nestor Traffic Systems is delisted from Nasdaq Capital Market stock exchange.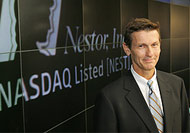 A major photo enforcement vendor has given up a year-long battle to retain its listing on the Nasdaq Capital Market stock exchange. Earlier this month, Nasdaq officials delisted Nestor Traffic Systems, forcing the company to trade over-the-counter as a penny stock. In an April ruling, Nasdaq informed the red light camera and speed camera vendor that because its share price remained under the $1 minimum for a full year, it would have to go. Nestor did not challenge the delisting decision.

"Although we are disappointed that we were unable to maintain the continued listing requirements from the Nasdaq Capital Market, we are pleased that our stock continues to be traded on a real-time basis over the Bulletin Board," Nestor CEO Clarence A. Davis said in a statement. "Investors should see no meaningful difference in their ability to trade or track our common stock."

As of yesterday, the financially troubled company traded at a low of 13 cents a share -- down from a high of $48 in 2000. This means that a single red light camera ticket issued in San Bernardino, California is now equal in value to 3000 shares of the company that created the citation. Although Nestor's leadership remained confident in the future of the company and its expanding photo ticketing operations, US officials recommend caution when dealing with share prices that have reached such a low level.

"Penny stocks can be very risky," the US Securities and Exchange Commission website explains. "Investors in penny stocks should be prepared for the possibility that they may lose their whole investment."

Last week Nestor announced a first quarter net loss of $2.5 million, down slightly from the previous quarter's loss of $2.6 million. By March, the company's accumulated deficit had grown to $79 million.