4/4/2008
Louisiana: Speed Camera Manager Caught with Speed Detector
Lafayette, Louisiana speed camera manager is caught using a radar detector.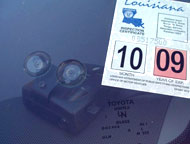 The city official in charge of Lafayette, Louisiana's program that uses cameras to mail tickets to accused speeders has himself been photographed using a device designed to help drivers detect radar traps. Tony Tramel, the Director of Transportation for Lafayette Consolidated Government, had a radar detector installed on the windshield of his personal silver Toyota sedan as he attended a recent city council meeting to provide an update on transportation projects.

Tramel did not respond to a request for a comment about why he uses a detector. It is unlikely, however, that he would actually find a speed camera ticket waiting for him in his mailbox. The transportation director's duties include the review of speed camera photographs submitted by Redflex, the private Australian vendor that operates the ticketing vans. Tramel has the authority not only to cancel tickets, but also to give final approval to the locations chosen for camera van deployment.

A spokesman for the Whistler Group was pleased that Tramel chose the company's entry-level model 1732 detector but suggested he consider taking advantage of the company's trade-in program to upgrade to higher performance units like the XTR690 or PRO78.

"It's nice that he chose us to improve his driving awareness," Project Manager John Nolan told TheNewspaper.

Tramel is considered an expert on issues of transportation and ethics. He will hold a seminar on the topic for attendees at a Dallas, Texas gathering of the American Society of Civil Engineers on May 5. In January, Tramel was caught on tape laughing behind closed doors with an independent hearing officer at motorists who had just mounted a legal challenge to their speed camera citations. Tramel was stopped before he could fully erase the tape containing the conversation. Read transcript or listen to MP3 of conversation.