2/4/2008
Police, Lawyers Shower Virginia Legislators with Gifts
Police, lawyers and insurance companies use gifts and campaign donations to ensure Virginia legislators maintain harsh motorist penalties.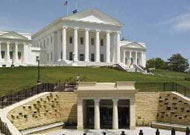 Over the past decade, Virginia legislators have been the recipients millions in donations and gifts from groups that stand to benefit financially from laws that target motorists. These lawmakers have, in turn, imposed some of the most draconian punishments such as the so-called "abusive driver fees" that sparked a voter revolt last year. According to newly compiled data from the Virginia Public Access Project, insurance companies, police organizations and trial lawyers have handed more than $11 million to state legislators since 1993.

The architect of the abuser fee law, state Delegate Dave Albo (R-Springfield) has received $105,209 in donations from the Virginia Trial Lawyers Association, law firms and trial lawyers. Lawyers stand to benefit from an increase in business as penalties against motorists increase. When traffic infractions carry thousands in fines and fees, it makes more sense for drivers to seek legal assistance and challenge a citation in court. Even traffic law firms that compete for this business with Albo and Oblon LLP have handed checks to the lawmaker. The Bose Law Firm, for example, gave $3000 to Albo's 2005 and 2007 campaigns. Albo defended the donations.

"They believe in improving safety on Virginia's roads as I do," Albo told TheNewspaper. "Nine thousand six-hundred people have died in traffic deaths in Virginia over the past decade. That is nearly three times the number of US soldiers killed so far in Iraq."

Albo is far from alone in receiving campaign cash from trial lawyers. All together the industry has given a total of $6,139,859 and $57,263 in gifts since 1993 to state lawmakers.

Insurance companies have likewise given a total of $3,246,204. This industry stands to profit whenever new laws are enacted to create offenses that generate driver's license points. Points allow insurance companies to raise a motorist's annual premium, generating additional profit without any extra cost. Legislators have responded to the industry's pressure with proposals to make driving without a seatbelt a primary offense, encourage roadblocks and maintain the "reckless driving" statute that applies up to $2500 in fines for driving as little as 10 MPH over the limit. Lawmakers also authorized the return of red light cameras despite a 2007 Virginia Department of Transportation study that showed the devices caused an 18 percent increase in injury accidents (view study).

Police organizations have handed $1,276,999 to lawmakers in campaign donations and $79,624 in gifts, primarily to encourage increases in police salaries. But members of the Virginia Sheriffs Association and the Virginia State Police Association (VSPA) are also direct beneficiaries of overtime payments when lawmakers push for increases in the numbers of traffic citations issued. The VSPA, for example, successfully lobbied against SB 526, a bill that would have reduced the hassle of annual vehicle inspections for motorist by requiring the checks every other year. The change would also have cut down on one of the easiest traffic citations to write -- the expired inspection sticker.

"The VSPA worked very hard to kill this concept and as such we are grateful to Delegate (David) Marsden for dropping this idea," VSPA Executive Director M. Wayne Huggins wrote in a January 20 update to members.

The association also killed HB 297, legislation that would have restricted the ability of government employee associations from making political contributions in an attempt to influence lawmakers.