12/4/2007
Police Departments Uphold Use of Tasers in Traffic Stops
Police in Utah and Texas do not significantly punish police officers who use tasers on motorists accused of nothing more than speeding.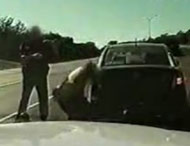 Police officials in Utah and Texas have cleared of wrong-doing officers caught on video using tasers against motorists accused of nothing more than speeding. Last month Jared Massey, 28, obtained and posted a YouTube video that showed him being tasered twice in the back by Utah Highway Patrol Trooper John Gardner while asking questions about why he was stopped (
view video
). In a press conference Friday, Utah Highway Patrol Superintendent Lance Davenport announced the result of its official inquiry into the incident.
"We have found Trooper Gardner's actions were lawful and reasonable under the circumstances that he found himself in," Davenport said.
Davenport did not believe the trooper violated a Utah law that requires a policeman to "inform the person being arrested of his intention, cause and authority to arrest him" (Utah Code 77-7-6). Gardner was placed on paid leave after a number of threatening, anonymous comments were left about him on various websites. Police in Saint Louis, Missouri took no action after
similar threatening comments
against a motorist were left on an unofficial police website used by Saint Louis area officers.
A second traffic stop tasering video recently surfaced in Austin, Texas. It showed a November 23, 2006 incident where Corporal Thomas O'Connor both stopped and tasered a driver within less than a minute. In May, Acting Police Chief Cathy Ellison imposed a three-day suspension on O'Connor for his conduct during the stop of motorist Eugene Snelling, 32, who had been driving his mother to a Thanksgiving meal that afternoon.
O'Connor claims he had paced Snelling, who was driving behind O'Connor, at 70 MPH in a 65 MPH zone and decided to pull him over because he had placed his rear license plate in the back window of his vehicle. Fifteen seconds into the stop, the following exchange occurred.
O'Connor: Let me see your drivers license and insurance.
Snelling: Whoa, whoa, whoa, let me get it.
O'Connor: No! Not, 'whoa, whoa, whoa.' Drivers license and insurance or get out of the vehicle.
O'Connor then ordered Snelling to "step out of the vehicle" while the trooper pointed a taser at the motorist. Seconds later, he fired while Snelling's mother, in the passenger seat, watched, horrified. In a copy of an internal affairs interview redacted by police, O'Connor admitted to medical problems that suggest mental instability. (
View interview
, 470k PDF)
"Maybe I did come across as abrupt," O'Connor said. "It's 1:10 in the afternoon and I have [redacted] so I hadn't eaten. And that is a problem when you get [redacted] is you're, it makes you kind of edgy."
Despite the light sanction he received, O'Connor wrote a memo to Chief Ellison that stated, "I must respectfully disagree with your decision that I violated 'Use of Force' policy." O'Connor remains on active police duty.
View the Austin
taser dashcam video
: