4/7/2007
New Mexico Governor Saves Red Light Cameras
New Mexico Governor vetoes bill that would have effectively eliminated the use of red light cameras in the state by eliminating the profit incentive.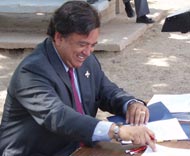 New Mexico Governor Bill Richardson (D) yesterday informed the legislature that he had vetoed legislation that would have cut the profit motive for red light camera operations, and thereby eliminated the use of photo enforcement. Richardson had cut a deal with a fellow Democrat, Albuquerque Mayor Martin J. Chavez, who agreed to reduce red light camera fines from the current $500 maximum. The vetoed legislation, SB365 (
bill text
), would have given the city only $35 in profit from each $100 maximum ticket issued.
"By diverting money to the state, this bill would have had the effect of killing Albuquerque's program," Richardson wrote in his veto message.
Richardson also signed legislation yesterday, SB 861 (
bill text
), mandating warning signs in advance of red light camera locations along with either rumble strips in the pavement or a warning beacon that flashes a yellow light in advance of the signal light changing to red. The measure, opposed by the Albuquerque mayor, is designed to provide extra notice to motorists so that they are not trapped by short yellow times at intersections.
Article Excerpt:
Office of the Governor of New Mexico

April 6, 2007
SENATE EXECUTIVE MESSAGE NO. 81

The Honorable Ben D. Altamirano
President Pro Tempore
New Mexico Senate
State Capitol Bldg.
Santa Fe, NM 87501

Honorable President Pro Tempore Altamirano and members of the Senate:

Pursuant to the Constitution of the State of New Mexico, Article IV, Section 22, I hereby VETO and return SENATE BILL 365, as amended, without emergency clause, which was enacted during the Forty-Eighth Legislature, First Session, 2007.

The City of Albuquerque's use of red-light cameras to assess civil fines for traffic violations has successfully resulted in fewer accidents at critical intersections – a key public-safety goal for the city.

The goal of the bill was to cap fines and divert a portion of the fees to other state services. However, I must veto Senate Bill 365 because, intended or not, this bill would have jeopardized the City of Albuquerque's attempt to reduce traffic accidents at intersections. By diverting money to the state, this bill would have had the effect of killing Albuquerque's program.

This program has proven to be effective in making Albuquerque's streets safer by reducing accidents at intersections and protecting the lives of all other drivers who follow the law. I see no reason for the state to micromanage this program and jeopardize the impressive results in order to fund other programs.

But however worthy this program is, I believe the graduated system of fines for violators is unreasonably high and should be reduced. The Mayor and City Council should keep this program, but reconsider the fines and adopt something more reasonable that still serves as a deterrent for violating traffic laws.

Accordingly, signature of this bill is not appropriate at this time.

Respectfully yours,
Bill Richardson
Governor


April 6, 2007
SENATE EXECUTIVE MESSAGE NO. 90
The Honorable Ben D. Altamirano
President Pro Tempore
New Mexico Senate
State Capitol Building
Santa Fe, NM 87501

Dear President Pro Tempore Altamirano and Members of the Senate:

I have this day SIGNED:
SENATE BILL 483
SENATE BILL 861, as amended

enacted by the Forty-Eighth Legislature, First Session, 2007.

Respectfully yours,
Bill Richardson
Governor