Related News
Georgia Supreme Court Advances Demand For Breathalyzer Source Code
North Carolina Court Admits Illegally Obtained Evidence In License Case
Kansas Supreme Court Limits Use Of Portable DUI Tester
West Virginia Front Seat Passenger Busted For Riding Under The Influence
Iowa: Cops May Not Snoop On DUI Consultations With Lawyers
View Main Topics:


Subscribe via RSS or E-Mail
Back To Front Page
3/27/2007
Pennsylvania: Proposal Mandates Ignition Interlocks for All Cars
Legislation before the Pennsylvania House of Representatives would mandate DUI interlocks on all cars.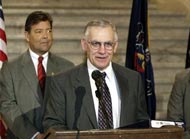 A bill introduced last week in the Pennsylvania House of Representatives would mandate that every car sold in the state be equipped with a breath testing device. State Representative Paul I. Clymer (R-Bucks County) insists that every motorist must prove that he is not drunk before starting a vehicle.

Clymer's proposal would require that, by 2009, all new cars sold in Pennsylvania have a device installed to estimate the amount of alcohol on the breath of a driver. If the machine believes the driver's BAC is greater than .025 percent -- significantly less than the legal limit of .08 percent -- the car will not start. By 2010, all motorists would be forced to install the devices on existing cars before being able to sell them as used vehicles.

Several states have mandated ignition interlocks for those convicted of drunk driving, creating a booming business for manufacturers of the devices. Court-ordered interlocks generally cost up to $200 to install with $125 in monthly maintenance fees. Permanent installation of such devices would add more than $1000 to the cost of new vehicles. The Sens-O-Lock brand, for example, lists for $1595.

Article Excerpt:
THE GENERAL ASSEMBLY OF PENNSYLVANIA
HOUSE BILL No. 875
Session of 2007

INTRODUCED BY CLYMER, MARCH 22, 2007

REFERRED TO COMMITTEE ON TRANSPORTATION, MARCH 22, 2007

AN ACT

Amending Title 75 (Vehicles) of the Pennsylvania Consolidated Statutes, mandating ignition interlock systems.

The General Assembly of the Commonwealth of Pennsylvania hereby enacts as follows:

Section 1. Title 75 of the Pennsylvania Consolidated Statutes is amended by adding a section to read:

§ 4538. Ignition interlock systems.

(a) General rule.--Every motor vehicle manufactured for use in this Commonwealth on and after December 31, 2008, and every secondhand motor vehicle sold in this Commonwealth on and after December 31, 2009, that is capable of having an ignition interlock system installed shall be equipped with a functional ignition interlock system.

(b) Existing motor vehicle.--Every motor vehicle shall be retrofitted to equip the vehicle with an ignition interlock system by December 31, 2009.

(c) Definition.--As used in this section, the term "ignition interlock system" has the meaning given that term in section 3801 (relating to definitions).

Section 2. This act shall take effect immediately.

Pennsylvania Code (existing law)

§ 3801. Definitions.
The following words and phrases when used in this chapter shall have the meanings given to them in this section unless the context clearly indicates otherwise:
"Adult." An individual who is at least 21 years of age.
"Ignition interlock system." A system approved by the department which prevents a vehicle from being started or operated unless the operator first provides a breath sample indicating that the operator has an alcohol level less than 0.025%.
"Minor." An individual who is under 21 years of age.