8/17/2006
Ohio Resident Stuck with Bogus New York Red Light Camera Ticket
A Middletown, Ohio resident must prove that she is innocent of running a red light in a distant city she has never visited with a car she does not own.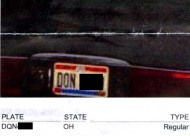 Last week, Middletown, Ohio resident Lisa R. Sims was faced with a puzzling question. Did she run a red light on June 24, 2006 in downtown Manhattan at 4:29pm -- or was she watching her grandson while her son was at work, as she does every Saturday? According to the New York City Department of Finance, the photos don't lie, and she owes $50.

"You are liable," the notice sent to Sims dated August 7, 2006 states. "Make your check or money order payable to the NYC Department of Finance."

Sims has never been to New York City. Sims does not even own a car that looks like the one in the photograph -- she owns a truck. A closer look at the ticket reveals that the car running the red light by a fraction of a second in the photograph has a license plate that begins "DON." The license on the truck that belongs to Sims begins, "DQN." Optical character recognition software commonly used by photo enforcement vendors is known to mistake the letters O and Q. View the full citation.

"So, now I get to go through all the hassle of getting this matter cleared up with long distance phone calls and a waste of my valuable time," Sims told TheNewspaper. "If they are going to use these cameras, the least they could do is hire some competent employees to read the plates and type in the correct information."

Although New York officials maintain that a city official reviews every citation before it is sent in the mail by a private contractor, such obvious mistakes should be easy to spot and correct. "Everyone who has seen the photos has said that the letters are DON," Sims said.

Sims called the New York Police Department and Department of Finance. After being transferred and waiting on hold, an official refused to cancel the erroneous ticket. Instead, Sims was told she had to prove her innocence by mailing a copy of her vehicle registration and a written statement. She has not heard back.

"I guess it is much more of an aggravation than anything," Sims said.