4/28/2005
Driver Responsibility Programs Mean Steady Revenue for States
Four states turn minor and major driving offenses into billions in additional revenue.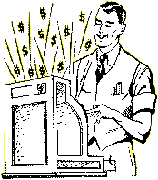 Thousands Michigan motorists are just now receiving a second bill from the state for various major and minor driving offenses they committed two years ago. It's part of a "Driver Responsibility Program" that went into effect in October 2003 and is similar to programs established in Texas, New York and New Jersey.
Michigan's program forces drivers who accumulate a certain point total to pay an extra $100-500 annual fee to maintain their license on top of any tickets and court fees already paid. For certain offenses such as DUI, the annual fee is $1000. In New York state, where the governor wants to introduce speed cameras, the extra payment kicks in if you are caught twice driving just 1 mile per hour over the speed limit.
In most cases, failure to pay the yearly assessment on time results in license suspension. Re-instating a license in Michigan, for example, will cost another $125.
Driver Responsibility programs mean big money for the states who have tried them. By 2006, Texas expects to earn $300 million from its program. New Jersey, which has assessed the extra fees since 1994, has generated over $1 billion in profit. More than half of the offenses charged were paperwork related, a third were related to driving offenses and just 12 percent were DUI-related. Florida considered creating a driver responsibility program after realizing that, in 2003, more than one out of every four drivers in the state (614,879) had 6 or more points on their license. Illinois, Pennsylvania and Rhode Island have also considered beginning their own programs.
The following is a summary of penalties imposed:
Michigan
:
$100 a year for as long as the license has 7 points (plus $25 for each point over 7)
$1000 x 2 years for DUI
$200 x 2 years for having expired insurance
$150 x 2 years for having an expired license
New Jersey
:
$100 x 3 years for 6 points (plus $25 for each point over 6)
$1000 x 3 for DUI
$250 x 3 years for having expired insurance
New York
:
$100 x 3 years for 6 points (plus $75 for each point over 6)
$250 x 3 tears for DUI
Texas
:
$100 x 3 years for 6 points (plus $25 for each point over 6)
$1000 x 3 years for DUI
$2500 x 3 years for two DUIs
$250 x 3 years for having expired insurance
$100 x 3 years for having an expired license