2/20/2014
Australian Tolling Firm Defends US Toll Road Failure
Capital Beltway high occupancy toll lane project loses $51 million in its first year of operation.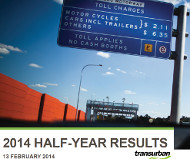 An Australian toll road company is getting defensive about its investment in an underperforming toll road in Virginia. Located just outside Washington, DC, the state and federal authorities poured hundreds of millions in taxpayer funds on what was supposed to be a showcase for public-private partnership innovation. Transurban charges up to $10 for a short 13-mile trip high occupancy toll (HOT) lanes on the Capital Beltway, a proposition that far fewer motorists than expected have found worthwhile. Though the firm collects an average of $64,000 per day from drivers, this amount is well below projections. Transurban CEO Scott Charlton defended the plan with investors in a conference call last week.

"Traffic and revenue has remained below our project case expectations," Charlton admitted. "We've now completed a full review and the result is a reduction in traffic and an extension of our ramp-up profile."

The executive blamed the poor performance on the brief government shutdown last October and the current bout of "extreme weather." To cover the losses, the firm is restructuring $430 million in debt for the Interstate 495 project and making an equity call to investors to put more money into the lanes.

"We think there is long term value here, recognizing that this is a 75-year concession period," Charlton said.

Transurban unsuccessfully attempted to draw extra traffic to the pay lanes by holding down the speed limit in the general purpose lanes with a non-compete clause in its contract with the Virginia Department of Transportation. The idea was to lure customers with the chance of legally driving 10 MPH faster by paying a toll. In total, the 495 project lost $51.6 million last year. It collected $11.6 million in tolls and issued $3.2 million in fines and fees. It cost $18.9 million to collect those tolls and operate the road, on top of the $36.4 million cost of financing the debt. The books also reflect $11.1 million in depreciation.

Still, Transurban profit was down just $200,000 in the first half of the fiscal year, thanks to a 13 percent increase in toll revenue from higher rates imposed on all other toll roads worldwide.

Instead of waiting to see how the 495 lanes performed, the state of Virginia raced ahead with a plan to give the Australian firm control of 29 miles of existing lanes on Interstate 95. Construction on adding the toll collecting equipment has advanced with a scheduled completion date set for the end of the year. Transurban controls the Interstate 495 lanes until December 2087.

In reference to other failing toll projects, including the Pocahontas Parkway in Richmond, Charlton pointed to faulty traffic and revenue forecasts, a known problem in the industry (read report).

"Small traffic modeling assumptions compound exponentially and create some outcomes that were not the best outcomes for some of the investors in some of these projects," Charlton said. "Again, we continue to apply our discipline and we think we differentiate ourselves from the rest of the market."