Article from: www.thenewspaper.com/news/69/6969.asp


8/31/2020
France, New Zealand: Speed Cameras Face New Assault
French vigilantes last week devised new speed camera destruction technique. New Zealand photo radar vans came under attack.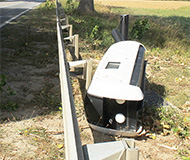 Vigilantes in La Barre, France, on Saturday used a novel method to destroy the speed camera that had been issuing automated tickets on the RD673. They used a drill to cut a large hole in the lens of the camera, poured gasoline inside and ignited the blaze so that the device burned from the inside out. Around Tuesday, vigilantes in Feignies used gray spraypaint to blind the speed camera on Avenue Jean-Jaures before likewise blinding the camera in La Longueville. On August 24, vigilantes smashed and spraypainted the newly installed pole-mounted speed camera on the RD104 in Vinezac. Around the same time the turret camera on the RN31 in Ambleny was decapitated and left on the side of the road.

In Murupara, New Zealand, on Saturday, a speed camera utility vehicle failed to prevent itself from being hit by a Ford Ranger on Daniel Street. Police chased the pickup truck's driver but failed to find him. A photo radar van in Timaru was destroyed on August 19 after it failed to prevent an accident. The vehicle was parked on State Highway 1 when it was involved in a rear-end collision.