Article from: www.thenewspaper.com/news/67/6740.asp


6/25/2019
US House Moves To Limit Car Seizures
US House of Representatives votes unanimously to block local police from seizing cars and other property under federal rules.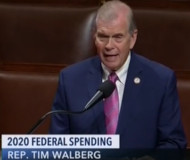 The US House of Representatives decided last week to limit the federal government's ability to work with local law enforcement to take cars away from motorists who have not been convicted of any crime. By a voice vote, lawmakers adopted an amendment to the Justice Department funding bill restoring a prohibition on "adoptive seizures" that allow local law enforcement to turn cases over to federal agents who operate with few restrictions on confiscation.

"These forfeiture options provide a loophole that helps local law enforcement evade stricter state laws -- like my own in Michigan -- governing civil asset forfeiture by seizing property and transferring it to federal authorities in exchange for up to 80 percent of forfeiture proceeds," Representative Tim Walberg (R-Michigan) explained on the House floor. "For many years, I have worked in a bipartisan way to shine a light on civil asset forfeiture abuses."

Walberg also introduced a more comprehensive civil asset forfeiture reform bill called the Fair Act, which has twelve Democratic and seven Republican cosponsors. Despite the bipartisan support, the current ideological split between the House and Senate means the only sure-fire way to pass legislation is to add it to the "must pass" end-of-year spending legislation as Walberg did last week. A coalition of conservative groups like Campaign for Liberty and the Heritage Foundation have joined with liberal groups like the American Civil Liberties Union (ACLU) and the NAACP along with non-partisan groups like the National Motorists Association to urge final passage of the funding bill with Walberg's amendment.

"Federal law enforcement can confiscate property it seizes from individuals and businesses without ever filing criminal charges," the coalition letter explained. "Those property owners must then navigate a legal system that is stacked against them if they are to have a chance to get their property back... Even worse, the agency taking the property typically gets to keep the proceeds, which poses an obvious financial incentive to engage in this practice."

On July 19, 2017, then-attorney general Jeff Sessions reversed a ban on adoptive seizures that was put in place in the prior administration. Over the last five years, the Justice Department has seized 11,739 automobiles.

"Due process means the government can't take your body, your rights, or your property without a fair process, the presumption of innocence, and the opportunity to be heard," Representatives Jamie Raskin (D-Maryland), a Fair Act cosponsor, explained. "But the lawless seizure and 'forfeiture' of people's private property is now standard operating procedure in far too many police jurisdictions across the country."

The House is expected to pass the underlying Justice Department funding bill by the end of the week.

Article Excerpt:
H.Amdt. 396 to HR 3055

At the end of division A (before the short title), insert the following:
Sec. ___. None of the funds made available by this Act may be used for activities prohibited by the order issued by the Attorney General entitled "Prohibition on Certain Federal Adoptions of Seizures by State and Local Law Enforcement Agencies" (Order No. 3488-2015, dated January 16, 2015).