Article from: www.thenewspaper.com/news/47/4743.asp


7/10/2015
Ohio: Federal Judge Accepts Guilty Plea From Red Light Camera Executive
Federal judge prepares to sentence ex-Redflex US chief for red light camera corruption.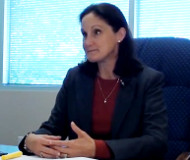 The long-time head of the second largest photo enforcement company operating in America is now waiting to find out how long she will spend behind bars for corruption. On Wednesday, the US District Court for the Southern District of Ohio formally accepted Karen Finley's admission that she bribed politicians in Columbus and Cincinnati so that they would offer lucrative red light camera and speed camera contracts to Redflex Traffic Systems of Australia.

"The court adopts the report and recommendation and accepts defendant's plea of guilty to the information," US District Court Judge George C. Smith wrote. "Defendant is hereby adjudged guilty of conspiracy, in violation of 18 US Code Section 371."

The court's chief probation officer promised Finley's lawyers that she would be emailed a presentencing report by July 24, and that a final version of the report would be presented to the judge on September 4 after considering any objections to its contents. The report will outline Finley's criminal history and any other factors the judge should weigh in deciding how much of the maximum five year sentence that she should spend behind bars. She also faces a fine of up to $250,000.

As part of her plea deal, Finley will spend no extra time in jail from her other crimes at Redflex. Finley signaled that she will plead guilty next month in the Northern District of Illinois for conspiring with John Bills to distribute $2 million in Redflex cash to a Chicago transportation official in return for his help setting up the red light camera program, the world's largest of its kind, which generated $140 million for the Australian firm. Judge Virginia M. Kendall held a status hearing on the case in Chicago's federal courthouse on Thursday.

In Columbus, those accused of being part of Finley's conspiracy deny involvement. John Raphael, the registered lobbyist for Redflex, is the "consultant" mentioned in the federal indictment who facilitated Finley's bribes to officials including council president Andrew J. Ginther.

Despite the guilty plea, residents of Cincinnati prevented Finley's corruption from spreading very far. Not long after Cincinnati's city council approved a deal with Finley, the voters banned the use of cameras in a referendum, joining Ashtabula, Cleveland, Chillicothe, Heath, Garfield Heights, Maple Heights, South Euclid and Steubenville, all of which overturned council decisions at the ballot box. At least one state lawmaker is citing the scandal as a reason to outlaw automated ticketing statewide.

"We always knew it wasn't about public safety," state Senator Bill Seitz (R-Cincinnati) said in a statement. "It was about money; we just didn't know it was about shady money."

Grand Canyon University responded to the guilty plea by quietly deleting a video of Finley's October 23, 2012 "CEO lecture series" talk to business students from the university's YouTube channel. The Phoenix Business Journal in 2010 declared Finley one of the region's "most admired CEOs."