Article from: www.thenewspaper.com/news/46/4674.asp


4/9/2015
Class Action Lawsuit Against Florida Red Light Cameras Heats Up
Class action lawsuit applies appellate court ruling to threaten red light camera programs throughout Florida.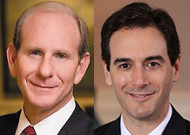 The shoe was on the other foot throughout Florida last week as process servers knocked on the doors of municipalities to tell city officials that they were being sued for running a red light camera program against state law. The US District Court for the Southern District of Florida consolidated cases against eighty-one towns and photo ticketing operators American Traffic Solutions (ATS), Xerox and Gatso of The Netherlands.

Lead plaintiff Christopher L. Parker, a motorist who received a ticket from the town of Davie, has a simple argument. The state Court of Appeal ruled that private vendors cannot do all the work of reviewing automated citations (view the Hollywood v. Arem decision). Parker and fellow plaintiffs want compensation not only for the tickets that were unlawfully issued before the ruling, but also to stop the ticketing still going on in many jurisdictions.

"The highly comprehensive services these vendors have provided to Florida counties and municipalities have extracted almost complete control from them in the monitoring and enforcement of red-light violations," the plaintiff's legal team, headed by Theodore J. Leopold and Stephen F. Rosenthal, wrote. "The vendors' employees -- and not local law enforcement officers -- control almost the entire law enforcement process."

Under the appellate precedent, only a government employee known as a traffic infraction enforcement officer (TIEO) can issue the $158 citations.

"Defendant city of Miami contracted with ATS to perform virtually all of the red light camera traffic enforcement functions that Florida law authorizes only the city to perform," the suit alleges. "Specifically, ATS, and not a TIEO or other duly authorized officer, determines whether a violation has occurred, and ATS issues the citations."

The suit accuses the seventy cities that use ATS, five that use Xerox (formerly Affiliated Computer Services) and six that use Gatso of unlawful delegation of police powers. It also accuses the vendors of unjust enrichment and of employing deceptive trade practices. The suit seeks a permanent injunction that would end photo ticketing statewide.