Article from: www.thenewspaper.com/news/40/4098.asp


5/12/2013
League City, Texas Red Light Cameras Bagged
Redflex begins removing the remaining red light cameras in League City, Texas.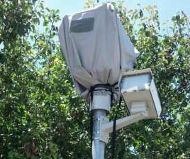 Red light cameras in League City, Texas were covered with bags this week, but not by vigilantes. Australian camera vendor Redflex Traffic Systems had no choice but to shut down the devices.

Last November, 77 percent of voters approved a measure banning the use of automated ticketing machines -- the fifth city in the Lone Star State to do so -- but technically the measure has not yet taken effect. City officials last year re-wrote the immediate ban initiative circulated by citizens and replaced it with a measure that would only take effect on October 29, 2014, when the city's contract with Redflex expired. The change proved politically untenable, so on April 23, the council voted to pay Redflex $350,000 to end the contract on July 1.

"The city will cease issuance of red light tickets immediately and the seven cameras still in operation will be turned off and removed by Redflex within 90 days," the council resolution stated.

In November, voters also knocked the two most vocal red light camera supporters off of the city council, easing the way for passage of the take-down resolution last month. Since the beginning, League City's camera program generated $4,941,261 in revenue.