9/30/2012
Australia, Italy, Latvia, Poland: Speed Cameras Shot, Sprayed, Smashed
Speed cameras across Europe and Australia come under assault.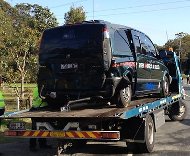 A speed camera failed to protect itself from an accident in Perth, Australia at 4:35am on Saturday. The black photo radar minivan was hiding on the side of Mt. Cotton Road in Sheldon when another vehicle slammed into it, the
Courier Mail
reported.
In Gdansk, Poland two men used black spraypaint to disable a speed camera around midnight on Monday. A passing officer noticed two individuals, aged 22 and 24, near the camera in Koscierzyna while wearing gloves and holding a spraypaint can,
TVN24
reported. They were taken in for questioning.
In Cremona, Italy on Friday, a vigilante shot a speed camera installed on the provincial road 343. According to
Il Giorno
, the bullet penetrated the outer housing but did only minor damage to the equipment inside.
In Riga, Latvia, a motorcyclist filmed himself kicking over a speed camera. In the video he posted to YouTube on Tuesday, effects from an old-school Super Mario Bros. videogame were used to emphasize the sporting aspect of thwarting the automated ticketing machine.
Watch video on YouTube
: