Article from: www.thenewspaper.com/news/34/3445.asp


4/4/2011
Chicago Camera Front Group Thwarts Texas Referendum
Powerful Chicago political machine creates front group to save Texas red light cameras.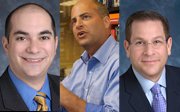 An Australian company has hired kingmakers from Chicago, Illinois to prevent Texas residents from being able to decide whether or not red light cameras should be used in their community. A "grassroots" group calling itself the Texas Traffic Safety coalition filed a lawsuit to stop the city of Port Lavaca, Texas from holding a referendum on the photo enforcement program run by Melbourne-based Redflex. Although no court order was issued in the case, the city council decided not to hold the election, despite the city charter's instruction that the council must place a qualified petition on the ballot.

According to the March 3 Texas Secretary of State filing that created the Texas Traffic Safety Coalition, the group consists of three directors: David Goldenberg, Gregory Goldner and David Smolensky. All three are officers of Resolute Consulting, a public relations firm based in Chicago, Illinois. Redflex is one of the firm's satisfied clients.

"Resolute has set a new bar for the industry," Redflex executive vice president for marketing Christina Weekes wrote on a blurb provided for Resolute's website. "Not only were you all laser focused on the issues but you made traction early."

Redflex Traffic Systems is listed as part of a long list of "partners" in the coalition that disguises the company's funding for the front group. Rival photo enforcement firm American Traffic Solutions is conspicuously absent from the list of group members.

Goldenberg, Goldner and Smolensky are key players in Chicago's Democratic political machine. Goldner was a senior aide to former Chicago Mayor Richard M. Daley and worked on the congressional campaign of current Mayor Rahm Emanuel and the campaign of former Governor Rod Blagojevich. Another Resolute front group known as For a Better Chicago raised $855,000 in anonymous campaign donations to dole out to favored city council candidates. The Windy City also happens to be the largest red light camera contract in the country for Redflex comprising 440 approaches that generate more than $50 million a year for the city.

Redflex wants to stop a referendum in Port Lavaca and other cities because Texas voters have rejected automated ticketing machines in Houston, Baytown and College Station. Photo enforcement has never survived a public vote.