Article from: www.thenewspaper.com/news/21/2151.asp


1/1/2008
2007 Year in Review
A look at the ten most read stories on TheNewspaper in 2007.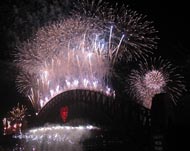 The year 2007 was filled with stories of interest to the driving public. In September, motorist Brett Darrow's videotaped harassment during a traffic stop in a small Saint Louis city became international news. Our follow-up coverage showed area police continued to harass the young motorist, and even threaten him, over the publicity.

We also helped spread the word in June about the Virginia's so-called abuser fees that turned what other states treat as an ordinary speeding ticket for driving as little as 15 MPH over the limit in a 65 zone (or 10 MPH over on sections of Interstate 85) into an offense carrying a maximum penalty of $3550. The ensuing public outrage brought 200,000 voters to sign a petition calling for the law's repeal and contributed to a change of leadership in the state Senate. Many motorists in the same state were surprised to learn in October that they faced a $2500 fine for not making a lane change away from a police officer stopped on the side of the road. Being slumped over on the side of the road as a motorist earned a tasering for an Alabama man who was suffering a diabetic attack.

In April, we broke the news that a little known California agency intended to install speed cameras and the first-ever stop sign -- not stoplight -- camera, in violation of state law. We followed up with a report on the stop sign camera's activation in July. But the news was not good for the ticketing industry in Minnesota. The state's supreme court struck down of the legality of red light cameras with a strongly worded decision in April. In Kansas, ticketing picked up as police struck deals to hide video cameras in commercial big rig trucks to issue tickets to passing motorists.

Some UK motorists discovered ways to prove speed camera tickets inaccurate, including the use of a cell phone's GPS readings as evidence. In Tennessee, a motorist took matters into his own hands and blasted a red light camera with a rifle (he awaits trial). A November opinion piece tied together issues of accuracy and legality on photo enforcement.

This year promises to bring even more interesting stories, including expected supreme court decisions on the legality of red light cameras from Ohio and Iowa. Be sure to subscribe to our RSS feed or free email updates to ensure you do not miss out.