Article from: www.thenewspaper.com/news/21/2106.asp


12/6/2007
Federal Gas Tax Money Fuels Ticket Quotas Nationwide
Law enforcement agencies across the country are encouraged to write tickets with prizes paid for by federal gas tax dollars.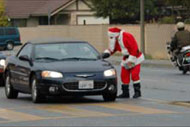 The National Highway Transportation Safety Agency (NHTSA) diverts federal gas tax revenue to offer incentives for local police to increase the number of traffic tickets written. In South Carolina, for example, the state police on Tuesday presented six new, fully-equipped police cruisers to local agencies with the best traffic citation performance. A NHTSA grant paid for the Dodge Chargers as well as the other gifts and prizes offered. Although organizers assert that the incentive program is solely motivated by safety, the South Carolina celebration was held just two days after one of the state's most deadly travel weekends in recent memory. Overall this year, traffic fatalities stand at 987 this year, up from 974 in the first eleven months of 2006.

The Georgia Governor's Office of Highway Safety (GOHS) likewise participates in the NHTSA-funded National Law Enforcement Challenge. Last month, it chose to hand the departments with the most high-profile ticketing efforts either a Harley Davidson Road King motorcycle or a Dodge Magnum with a police pursuit package that includes "a HEMI engine with cold air induction and a Borla exhaust system." Local agencies work hard to earn these prizes.

"When we first announced this custom-equipped car at the Governor's Challenge event in September, we had a standing-room-only crowd straining to see the pursuit vehicle," GOHS Deputy Director Spencer Moore said.

Agencies must provide National Law Enforcement Challenge Award review panels with ticket counts for their application to be complete. An agency will lose points if it fails to mention that it operates a "zero tolerance" no-warning policy. Educational efforts and new training methods can also earn rewards, but it is clear from the sampling of 2004 and 2005 winners listed below that coming up with a new way to ticket motorists in a covert fashion is the most common way to earn a department a new police cruiser:

"Police officers dress as Santa Claus in Moreno Valley, California to work crosswalks near schools." Those who drive too closely to Santa get a ticket.
Florida Highway Patrol's "Operation Hardhat" used police disguised as highway workers to issue tickets.
Kissimmee and Osceola County, Florida police "use patrol officers dressed as tourists, homeless people, bucket truck operators and disabled motorists to catch violators with radar."
Caledonia, Vermont sheriff's office "hands out packages of mini donuts to motorists" who wear seatbelts when approaching a ticketing roadblock.
On "Maroon Day" every single member of the Minnesota State Patrol, regardless of rank or duty, is required to issue traffic tickets.
Arizona state police became "certified" in the use of force to draw blood from motorists suspected of DUI on the side of the road.
"Utilizing an unmarked van equipped with speed measurement devices, camera equipment and interactive computers, a Maryland Trooper covertly documents violations."
San Carlos, California sets up the neighborhood "pace car" program where citizen participants pledge to block any traffic attempting to drive over the speed limit.
Colorado Springs, Colorado police set up roadblocks to ticket motorists who choose not to or neglect to wear a seatbelt.
Atlanta, Georgia is rewarded for using aircraft to write "zero tolerance" speeding tickets and Fairfax, Virginia for setting up roadblocks.
Sixty-five Washington DC area agencies won for the "Smooth Operator" ticketing blitz.
Stafford County, Virginia created "enhanced fine" zones for greater ticketing revenue.
Burlington, Vermont handed citizens radar guns so they can issue warning notices to their neighbors.
Fort Campbell, Kentucky police officers receive commander coins for making "an extra effort in enforcement." The coin can be turned in for a free day off.
Washington state police used five fixed-wing Cessnas to write speeding tickets.
DeKalb County, Georgia agencies won for its "one hundred days of summer HEAT" ticketing campaign.